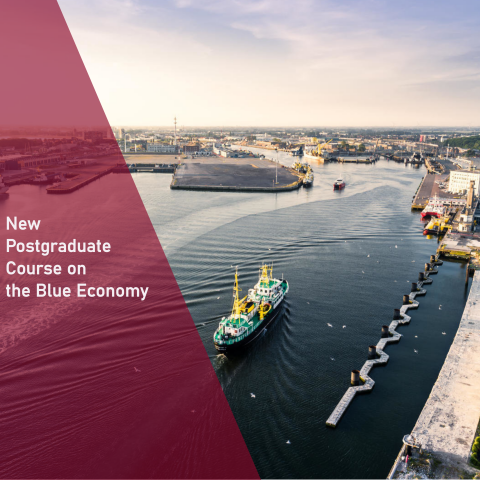 Starting from January 2022, the new postgraduate course 'Postgraduate Studies in Blue Resources for the Blue Economy' will be launched. The 'Blue Resource programme' was developed to meet the growing demand for personnel in the marine and maritime sectors. Therefore, the programme will tackle recent developments in the blue economy. The creation of this international program is the result of a unique collaboration between the University of Ghent, Belgium, and the Galway-Mayo Institute of Technology (GMIT), Ireland.
"Many EU partners face significant challenges in the marine and maritime sectors. Businesses operating within the Blue industry are increasingly looking for highly educated technical profiles equipped with the right set of competences. The University of Ghent and GMIT aim to provide an answer for these needs from the industry. This is why we developed this unique postgraduate course within the Blue Economy and are also expanding our lifelong learning training", says Tim Deprez, coordinator of the MarineTraining unit of the faculty Sciences at the University of Ghent.
During the course, contact with the industry is an important element. An essential part of this programme is a workplace-based internship in the Blue Industry whereby valuable contacts are made and competences are acquired by the candidates.
This course is aimed at very diverse profiles, from engineers to people with a financial or legal background. Everyone who has obtained a Master's degree and is interested in pursuing a career in the Blue Economy can enroll in this postgraduate course. People already active in the field and looking to expand their knowledge and skills are also eligible.
"In addition, we offer a very flexible trajectory in which we focus on online learning and blended working formats. Working students for example can also perform their internship at their current occupation, provided of course that they are active within one of the marine sectors", says Tim Deprez.
The course will kick off with an on-site opening event at the BlueBridge Campus in Ostend, Belgium, from the 10th until the 14th of January 2022 and will be concluded with a closing event in Galway, Ireland, from the 5th until the 8th of September 2022.
More information can be found via www.blue-resource.eu or during our live webinar event on Tuesday the 5th of October 2021 at 13h00 CET. Participation is possible via following link.
Interested? Enroll today via following link.